Revolution Motor for the Arri II - Arriflex 2
The Revolution motor is a single-frame and time lapse motor with a wide range of shutter speeds and intervals. Automatic shutoff is standard, as is delay-before-filming, and 10 Presets for storing favorite interval and exposure combinations.
The sync-capable version features all the time-lapse features and adds sync speeds from 1-25fps, all flicker-free. Automatic shutter parking is standard. A voltage-boost box allows sync filming from a standard 12V power supply.
Here's the Revolution Manual for the Arri II (

format).
Revolution motor videos on YouTube:
Features and specifications are the same as the other models:
Shutter speeds of 1/8, 1/4, 3/8, 1/2 second, and
Long-duration exposures from 1 second to 4 minutes.
Intervals from 1 second to 9 hours.
Auto-shutoff after desired number of frames exposed!
Delay-before-filming up to 24 hours.
Presets! Store favorite settings in permanent memory.
Chaining! Film the contents of multiple Presets.
Brushless DC motor, direct-drive and gearless for highest reliability! One-year warranty. Standard 12v XLR input
Revolution Arri II time lapse ............... $1,495.00


Revolution Arri II Sync.....*
*The sync-speed model is undergoing testing.
Price and ordering information
Questions? Use the e-mail link at the bottom of the page, or just call.
"After shooting film and dealing with equipment challenges for more than 20 years, it is truly a blessing to have products so versatile and dependable as those created by NCS Products.
I have been shooting on Oahu for several years now, and solely trust the Revolution. With tens of thousands of feet shot, the system run efficient, smooth, and quiet without missing a beat. The reliability saves me a great of time, money, and headaches. Now, when I go to Hawaii, I only take one system with no backup, and have a more successful and profitable shoot."
- Rick Clark (scroll down to see his setup in Hawaii)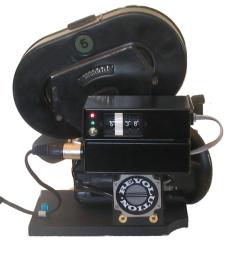 The Arri II model attaches easily to all Arri 2A, 2B and 2C cameras. The base plate is attached under the camera via the tripod mount and two motor mount screws.
The motor-pod attaches to the base plate and the motor plugs into the 1:1 inching knob.
The control box can be detached via a single thumbscrew from the top of the motor pod and used remotely with the included 6' curly cable.