Home &gt Revolution Motor &gt Revolution 121
The Revolution Model 121 is a "generic" 1-to-1 time lapse and single-frame animation motor that you adapt to your camera.
As long as it has a single-frame advance knob, or inching shaft, this model can probably be adapted to it. Many cameras (such as the Michell 16mm and 35mm) have an output shaft specifically designed for a single-frame motor. If your camera has a 2:1 shaft (two exposures for every 1 rotation), we can supply it for 2-to-1 operation as well.
The motor can be a size Nema 23 (shown) or the smaller Nema 17. The cable length to motor can be a few inches, or as long as many feett.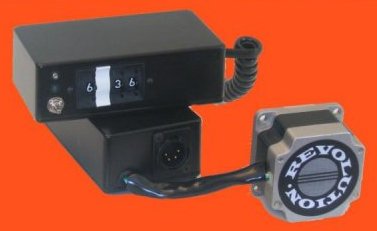 A short cord and 6' long curly cord to connect the control box and the driver box are included. Even longer cords are available as well.
Here's the Revolution Operating Manal

.
Time Lapse features
Exact intervals from 1 second to 9 hours can be set precisely on the digital thumbwheels
Crystal-controlled interval and shutter speeds
Shutter speeds of 1/8, 1/4, 3/8, 1/2 sec and long exposures up to 4 minutes.
Change the shutter speed or interval while running! That's right, if the sun is going down, and you want a longer exposure, you can change it without stopping and re-starting filming.
Presets! Store filming settings in permanent memory.
Delay-before-filming mode, up to 24 hours.
Specs
Power input: Standard 4-pin XLR jack
Voltage: 12-24 volts, about 0.4 amp.
Weight, motor and motor box: 2.25 lbs
Weight, control box: 8 oz
Price: $995.00
Below are the dimensions in inches for the NEMA 23 size motor. It has a 1/4" shaft.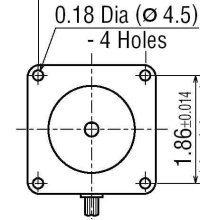 It can also be supplied with a smaller NEMA 17 motor. The NEMA 17 dimensions below are in mm. Single-shaft and dual-shaft variants are available in both sizes.
If you already have a camera with a digital motor attached, or an optical printer, the driver box can be hooked up that motor as well.